Western people find the concept of chi difficult to grasp but many (if not all) Asian cultures have been using this inner energy for centuries, Chi/Qi is how the Chinese call it. Chakra, Mana, Ki, Prana are other names used. But there are idiots out there that say they have Chi powers and advertise their services; healing, etc. Real users  of this 'energy flow' are not allowed to show their ability publicly, that's why John Chang here became furious because the Westerners released the footage…
Reply
 ·


(CNN) — Nelson Mandela was always mindful that his leadership role in the liberation of South Africa from apartheid might not have been possible if he had not been imprisoned.
"It is possible that if I had not gone to jail and been able to read and listen to the stories of many people. … I might not have learned these things," Mandela said of the insights that he gained during his 27 years in jail.
In an interview less than a year after he had stepped down as the country's first black president, Mandela shared with me reflections of how prison changed him.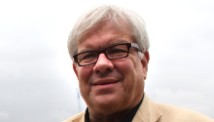 John Battersby
He said that reading the biographies of great leaders who had been able to overcome their shortcomings and rise to do great things had inspired him. He said it also helped him to realize that behind every seemingly ordinary person lay the potential of greatness.
"I have been surprised a great deal sometimes when I see somebody who looks less than ordinary, but when you talk to the person and they open their mouths, they are something completely different," he said.
Mandela said that prison gave him time to think about the times when he had failed to acknowledge people who had been kind to him.
Mandela said that at the height of the struggle against apartheid, he and other leaders were understandably angry at the humiliation and loss of dignity of those who suffered under the unjust policy. It meant their actions were driven by anger and emotion rather than by reflection and consultation.
"But in jail — especially for those who stayed in single cells — you had enough opportunity to sit down and think," he said.
There was time to listen to the stories of people who were highly educated and who were widely traveled and experienced. "When they told of their experiences, you felt humbled," he said.
Mandela said that he had learned that when you had the moral high ground, it was better to sit down and talk to people and persuade them of the correctness of your cause.
"If you have an objective in life, then you want to concentrate on that and not engage in infighting with your enemies," he said. "You want to create an atmosphere where you can move everybody toward the goal you have set for yourself," Mandela said.
Nelson Mandela: A man of many handshakes
In his twilight, Mandela was at pains to publish and acknowledge his weaknesses and shortcomings in his family life, in his relationships with women and his first wife, Evelyn. He was keen to dispel any notion of sainthood that might be bestowed on him.
He also spoke increasingly about the importance of changing oneself.
"One of the most difficult things is not to change society — but to change yourself," Mandela said in 1999 at a tribute to billionaire businessman Douw Steyn who had made his Johannesburg residence available to Mandela as a retreat after his prison release in 1990.
Mandela had given similar advice to wife Winnie in a letter written to her in 1981 after she had been jailed by the apartheid regime. Mandela noted that there were qualities "in each one of us" that form the basis of our spiritual life and that we can change ourselves by observing our reactions to the unfolding of life.
Ten years later, Mandela said that it gave him a feeling of fulfillment to see that Douw Steyn had changed and had learned to share his resources with the poor.
"It enables me to go to bed with an enriching feeling in my soul and the belief that I am changing myself" by reconciling with former adversaries, Mandela said.
I believe that the essence of Mandela's greatness was to change himself fundamentally during his period in jail and emerge as a potent leader and example for all humanity.
Opinion: Nelson Mandela saved my life
The reflections took me back to the extraordinary day of Mandela's release. The day the legend became a man. Even now, the moment seems frozen in time.
It was February 11, 1990, and the African sun shone from a clear blue sky on a windless summer's day in Cape Town. About an hour's drive from the city, the international media thronged around the entrance of a neat prison warder's house to await the emergence of one of the century's most iconic figures.
I had arrived late at the prison and wandered unnoticed into the prison grounds where my slate-blue cotton suit coincidentally blended in with the uniform color of the South African police. That might have had something to do with the fact that I was not challenged when I strode confidently into the prison grounds. But to this day I do not know.
An unscheduled wait of an hour while Mandela consulted an anti-apartheid delegation including his wife Winnie, who had arrived an hour late, seemed like an eternity.
When Mandela, flanked by Winnie, finally emerged walking down the driveway towards the prison premise gates, I lost all sense of time and self and strode towards Mandela to shake his hand and congratulate him on his freedom.
He recognized me from the photograph that accompanied my regular column I had written for the Cape Times, where I often analyzed the successes and setbacks of the anti-apartheid movement and the African National Congress in exile.
His face broke into a broad smile as we shook hands and he continued his historic walk to freedom.
At the time, I was the southern Africa correspondent for the Christian Science Monitor which was for many years the only international news publication that Mandela was allowed to read in jail albeit in a vetted form with pages and sections frequently removed.
On his first visit to the United States in 1990, Mandela broke from his official program on Sunday, June 24 to pay an unscheduled visit to the headquarters of the Monitor at One Norway Street in Boston to the astonishment of the editor and staff. (Today the Monitor is online only. The newspaper ceased daily publication in 2009.)
South Africa since apartheid: Boom or bust?
I received an incredulous call from my foreign editor, Jane Lampman, on that Sunday asking me if I could guess who was standing outside the building with two bodyguards asking to see the editor. It was, she said, Nelson Mandela. I was astonished too.
Mandela was intrigued that the founder of the newspaper, Mary Baker Eddy, also founded a religion. Mandela came to respect the Monitor's sustained and fair coverage of South Africa during his time in jail.
To this day, Mandela's weaknesses, his turbulent youth and his sometimes tempestuous relationships with women can still detract from the iconic status that Mandela achieved in his own lifetime.
But, the responsible airing of his weaknesses — including his own acknowledgment — in fact humanized Mandela and focused on his extraordinary strength of character and commitment in overcoming both his weaknesses and adversity in his own lifetime. It augmented Mandela's greatness.
Carrying on the work of Nelson Mandela
It is Mandela's achievement as a universal icon that has always fascinated me most. He first conquered his jailers by convincing them that they were the ones imprisoned by their own unsustainable policies based on fear and racial injustice. And then he negotiated them out of power with the sheer force of his moral authority and belief in himself.
Mandela's example and actions in becoming the country's first black president struck a mortal blow to racism worldwide and helped build confidence and pave the way for Barack Obama to pull off a similar feat in the United States.
If Mandela has a global heir in the ongoing campaign against racism and the quest for human dignity it has to be Barack Hussein Obama.
The power of Mandela's leadership was rooted in the fact that at key moments in his life he acted independently of the movement to which he dedicated his life and to which he deferred as a "loyal and obedient" member.
He did so when he decided in 1986 to begin negotiating with his jailers from behind bars not knowing where it would end. He did so in continuing to refer to former President F. W. de Klerk as a "man of integrity" long after it was less popular to do so in the ranks of the African National Congress.
And he did so again when he went out on a limb within his own constituency after his release to support the overwhelmingly white South African rugby team in the World Cup in 1995.
Mandela said that even if he wanted to he could not bind future generations to remember history in a particular way.
The lesson of Mandela's life is that he has no need to bind anyone to his legacy nor does he need any organization to do so.
His actions in his own lifetime are his legacy and they will remain indelibly etched in history for generations to come as a living example to inspire the leaders of tomorrow.
Its OCtober 20th and were taking a rest from yesterdays 32 Kilo grind and dash  at a place to stay for the night donated by Ensons friend"s friend Hiro Ito (Special and real thanks to the Ito family for their selfless hospitality) …we are preparing for tomorrows walk  which is towards the famous Samurai battleground in Sekigahara.
So much adversity has taken place on this walk since the start…we've walked through a typhoon, climbed a few mountains, slept everyday in places unknown. weve walked hungry, tired, and uncertain…many times deaf, dumb, and blind towards a goal that we could best define as a kind gesture for the victims of Tohoku, the country of Japan, and in several ways mankind…but tomorrow morning (or the next day) will mark the dawn of our hardest day yet.
the walk down Sekigahara…an area where unrested spirits roam reported to host one of the greatest battles in Japans history. with over 30,00people killed in 6hours time..on October 21st of 1600. 413 years ago to the date.
A part of me thinks its pure coincidence that we'll be walking into this area on the anniversary of ( or close to) but considering all the voodoo (divine intervention) weve seem to come across on this journey and adventure–i feel  that there is definitely a purpose for this, itrust that there are much larger things in motion, and i know that this is our destiny.the Spirits have a message for us..its just a matter if we are able hear it.
Im walking with Enson Inoue, Pride, Shooto, and UFC vetran and MMA icon living legend Enson Inoue and World Brazilian Jiujitsu &Submission Grappling Protege and Prodigy Mike Fowler–two fighter athletes proven around the world times over to blend perfectly into this territory of fighting warriors. Though ive trained in martial arts for a few years–i dont have anything really to my resume to put me nearly into this category, i get scared enough walking alone in the dark, and im scared shitless of ghosts..but tomorrow weak in body and hopefully strong enough in Spirit–i will walk with them…or maybe slightly behind(i move slower)
Im hoping that the Spirits that reportedly still walk the land will appreciate our purpose and hoping that they will find us worthy. i wont tell a lie–im scared –a complete coward when it comes to ghost (and a bunch of other things)butmore than a month of walking has passed and weve come across more than half of 1360 miles  with a sincere motive to service Japan and its people. i am carrying the Guam flag, i am the son of Victor and Emelita Dela Cruz..and of course–i represent FokaiInternational.  i will walk with fear.but ill move forward with respect. and hopefully proceed honorably forward with prayers for Japan and its people before, during, and after the tsunami.
Osu
WORD OF ADVICE:
Recovery is essential before and after the Grind….bruh.
NITTY GRITTY:
Nobunaga (bird killer)was the most powerful dude at the time. He saw it best to unify Japan by defeating all other leaders. Hideyoshi was his boy and wanted to take over despite Ieyasu being older (and more senior) He was able to gather enough folks together to support him and eventually defeat Ieyasu. So we Slept in where Ieyasu (wait for the bird..winner)was born yesterday.
Sleeping in the place where Hideyoshi (made them sing)was born today
Heading towards where their people scrapped tomorrow.
and Heading towards where Ieyasu was living the days after
We are walking in the path of the Battle of Sekigahara. Theres a lot that lies in between the lines of coincidence. More thanever in this trip i am convinced that we are meant to be here…hopefully we can prove worthy if push comes to shove.
PHOTO OF THE DAY:
WORD OF THE DAY:
Yowamushi: Weakling
via:Enson Inoue
Conditions for ENSON's walk across Japan
After careful thought I've decided on strict conditions for my walk across the whole country of Japan. After all the walk is for the people in North Japan that are still struggling everyday, so I decided that I would use whatever I could in the walk to benefit the people.
First of all, there are 3 things that inspired this walk across Japan
1. The lack of funds the people have for everyday necessities.
2. The people of the world has forgotten the people of North Japan because it is no longer in the media.
3. Suicide is a big problem with the elderly that have been left homeless and feel they have no reason to continue living.
The way this walk will help these 3 points is:
For point number one, I am taking pledges to destinyforeverorders@gmail.com that will fund a big Xmas event up North on Xmas day, that ill provide the people with supplies such as, rice, water, pet foid, clothes, toiletries, beer, snacks, presents, and Xmas cakes.
For point number two, with my social media such as Facebook and various MMA sites, i will bring awareness to thousands of people that the people of North Japan are still struggling day by day.
For point number three, I've decided to add a strict rule that I can eat and drink only the food and water I can carry. The only exception is if someone gives us food or water as an offering. Also we have to find a place to sleep outdoors every night unless we are offered a place to sleep.
This will put me close to the situation they are currently in.
I will be low on supplies, having unstable sleeping quarters every night and will be depending on help from others for strength to continue.
By making this conditions to make this already incredible journey so much harder, I want to inspire them and give them hope and faith to go on.
This will cover approximately 2200 kilometers or about 1360 miles. The distance I got was for this trek is from a highway course and am aware that a walking course may be much longer and since it won't cut through mountains it will be much tougher.
I know many of you think I'm crazy or feel that I may be taking on too much this time, and you maybe right. But this is what I believe, it will take to help these people and possibly save some lives! God has given me the opportunity to reach out to many on my social media and I believe it would be best used to help others than prosper financially myself. However, I will gain a lot of happiness through this grueling journey by accomplishing the happiness of giving, true happiness.
Please pledge what you can per mile and be a part of this journey. A penny a mile will obligate you to only $13 when the walk is done. $13 will buy water for a family for month or feed a family rice for 2 weeks. Also feel free to take you own pledges and join me on the walk for as far as you like. The cities I will be passing through is:
Sapporo
Misawa
Miyaki
Kamaishi
Rikuzen Takada
Kesenuma
Sendai
Fukushima
Koriyama
Tochigi
Iwatsuki
Ikebukuro
Yokohama
Shizuoka
Nagoya
Osaka
Okayama
Hiroshima
Fukuoka
If not, you can follow me on Facebook and experience this incredible journey with me.
Tentative start date is September 11th. 9-11.
May the victims in New York rest in peace.
There is no better way to die…
than in the mist of a battle…
fighting to the very end, like a Man.
Enson Inoue
Hafa Adai,
My name is Roman Dela Cruz. i am reporting to you through THE FORCE as a reprepsentative of FokaiIndustries, a brother in the YamatoDamashii Ichizoku, and most importantly  as a human being.
Enson Inoue, mixed martial arts icon, Professional Shooto world-champion, and very vocal humanitarian has initiated a walk from the North of Japan to the South (Hookaido to Fukuoka) to collect pledges in efforts to raise funds for a direct Christmas donation to the victims of March 11,2011′s tragic earthquake and tsunami in Northern Japan.
As his friends, his students, and his brothers. Patrick Ayuyu and I will be walking alongside (as far as we can) from September 11th til a hopeful finish line by November 19th.
As it stands,We will be backpacking this trip without the option of paying for lodge or food throughout this 1,360mile tour.instead we will be relying on the good graces of friends, family, and new acquaintances along the way for sustainance and recovery.
Tune into here for a first person perspective insight and details from the shadows of greatness in the trials of  a gruesome walk–dwarfed by a gesture a thousand times as monumental.
Despite Breaking my sandals and keeping my soul in Guam…as well as possibly forgetting my most frequented credit cards, the trip is geting off to a good note.
lessons for the day:
1.God is Real
2.Don't put all your eggs in one basket
3.There is no 9th row in United Airlines
Keanu Reeves: The Most Charitable Actor In History
Posted by Icarus Verum on 24 Aug 2013 /
0 Comment
---
"Money is the last thing I think about. I could live on what I've already made for the next few centuries."
~Keanu Reeves, 2003
The more you read about Keanu Reeves – the more you can't help but love the guy.  It is estimated that Keanu made approximately $260 million and counting from his role as Neo in the blockbuster trilogy The Matrix.  For the first Matrix movie – he received $10 million up front plus 10% of all box office receipts.  For Matrix Reloaded and Matrix Revolutions – he received $15 million per movie plus an additional 15% of box office gross.  Well – if you're counting … the first Matrix movie made over $460 million, the 2nd earned $738 million and the third raked in $423 million.  That's over $260 million for one guy – Keanu Reeves.
And what did he do?  He gave away approximately $35 million out of that haul to the special effects team and makeup artists resulting in over 1 million per cast member.  He just gave it to them (source).
"Money doesn't mean anything to me. I've made a lot of money but I want to enjoy life and not stress myself building my bank account.  I give lots away and live simply, mostly out of a suitcase in hotels. We all know that good health is much more important." (source)
And boy does he mean that.  He turned down a reported $11 million paycheck to play in Speed 2 and an opportunity to play alongside Robert Deniro and Al Pacino in Heat so that he could play the lead role in Hamlet … not in the movies – but on a Canadian stage (source).  Alright – I'm impressed Keanu.
He apparently – also has a foundation to fund cancer research and cancer hospitals.  In 2009 – he told the Ladies Home Journal this HERE:
"I have a private foundation that's been running for five or six years, and it helps aid a couple of children's hospitals and cancer research. I don't like to attach my name to it, I just let the foundation do what it does."
Over the years – Keanu has supported many charities and causes.  According to "Look to the Stars" HERE:
Keanu Reeves has supported the following charities:
His sister has leukemia so cancer research hits home (source).  The actor who inspired the ever popular "Sad Keanu" meme has been caught being very casual with the homeless in L.A. As Ranker explains HERE:
In September of 1997 Keanu Reeves, who now has millions of dollars, decided to spend a West Hollywood morning with a homeless man, talking, sharing and treating him as an equal. Not recoiling in disgust at the man's belongings is one thing, but sharing, conversing and really spending some time sitting down with the less fortunate isn't something that people usually do while in the United States and not part of a program.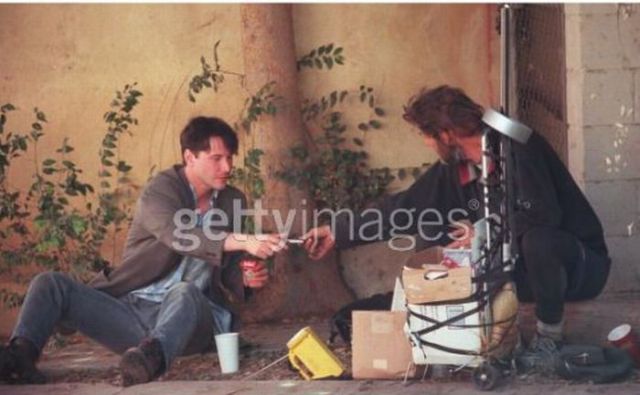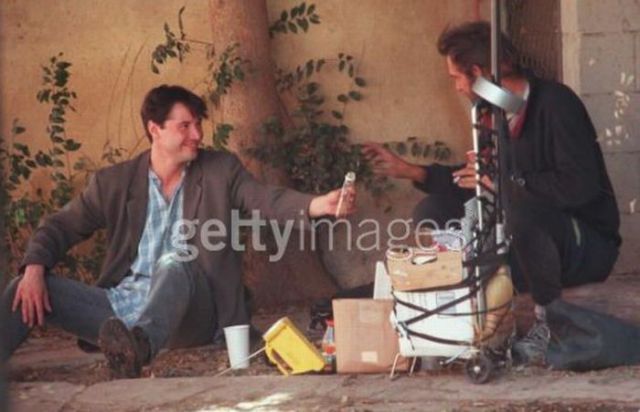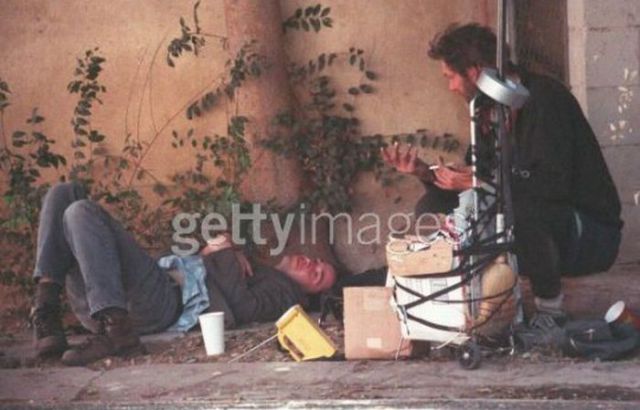 Patrick McConlogue is a lot like the many others working in the New York tech scene. Every morning, he walks to work, passing a few homeless people on the streets, and then spends the rest of his day at a computer, writing software code for a 35-person startup.
But the 23-year-old engineer didn't think those two parts of his day had to stay separate. Earlier this week, he made an offer to one of those homeless men.
"I walk by a homeless guy every day on the way to work and I get this feeling every day that he is a smart guy — he has books and he writes," McConlogue told ABC News. "I was trying to think of a way to engage him and help him."
McConlogue approached Leo, a 36-year man who lives on the streets of lower Manhattan, on Thursday and gave him two options.
The first was $100 in cash."I figured that was enough for a ticket some place or a few meals, if that's what he wanted," McConlogue said.The second option on the table was a laptop, three JavaScript books and two months of coding instruction from McConlogue. After hearing the offer, Leo, who McConlogue described as very articulate and gifted, especially in on the topic of environmental issues, decided to take the coding option.
"I want to spread knowledge and information about climate change and global warming," Leo told ABC News in a phone interview facilitated by McConlogue.
Soon, McConlogue will deliver him a Samsung Chromebook with 3G connectivity, three JavaScript books, a solar charger for the laptop and something to conceal the laptop in. He will spend an hour before work every morning teaching him the basics of software coding.
McConlogue began documenting his plans to help Leo on the blogging platform Medium earlier this week and has seen a mix of reactions.
The technology community, in particular, was critical of his first post, which was titled, "Finding the unjustly homeless, and teaching them to code." Many commenters criticized McConlogue for using the word "unjust," which he admitted was a poor word choice.
Still, some writers heavily criticized McConlogue's effort beyond that.
Techcrunch editor-in-chief Alexia Tsotsis said McConlogue was "tone-deaf" and that his plan demonstrated "a profound cluelessness about poverty and the disenfranchised."
Slate's Matthew Yglesias argued that housing, not coding, is the first step in fixing homelessness.
Then, Slate's Will Oremus called him a "naive techie."
But along with the critics, there were those who supported his effort. More than 1,200 people have liked the "Journeyman" Facebook page McConlogue has set up about the project and he said he has even heard from some previously homeless individuals who see the effort as useful.
Leo himself, who is aware of the online chatter, said that he is understanding of the criticism. "It's America, people have the right to have their opinions," he said. "It's the Internet, people have the right to post what they want. I agree to disagree." When asked about housing Leo said that he thought "housing was great for people who want to be put in housing, for people who want and need it."
Ultimately, McConlogue says he is offering what he can right now to help.
"Being able to code will help him do some of the things he wants to do," McConlogue said. "The negative feedback is that you should give him housing and food. My thought is that technology will do a better job connecting him, in the long term, to what he wants."
McConlogue plans to keep blogging about the experience on Medium and Leo himself will write the next post. He said he doesn't have plans to do anything with the larger homeless community at this point, however.
"I've tried to build products for the many before, but I wonder if this new generation is building projects for the power of one," he said. "I am going to do a really good job with this guy. I will learn from him, maybe even more than he learns from me."
Fresh in the wake of the controversial "not guilty" verdict of George Zimmerman in the homicide of Travon Martin–the Force prevails—unfortunately without nearly a fraction of the media the world could use...
African American Teen Saves Kidnapping Victim… Media Barely Mentions It
Temar Boggs was hanging out in his Pennsylvania neighborhood when he heard that officers were looking for a reportedly kidnapped 5-year-old girl. Boggs, 15, and his friends got on their bikes and joined the search. "I had the gut feeling that I was going to find the little girl," Boggs said.
After first checking the woods and along a creek, Boggs spotted a maroon car that started backtracking through the neighborhood, presumably to avoid a group of officers.
He caught up to the car, causing the driver to stop and push the girl out. Boggs scooped her up and delivered her to the police. "I'm just a normal person," he said. "It was a blessing for me to make that happen."
http://www.youtube.com/watch?v=Fd31e02l3jk
_________________________________________________________________________________________________
MEET TEMAR BOGGS
Temar Boggs is a 15-year-old student who lives in Lancaster, Pa. He loves playing sports, hanging out with friends, skateboarding and biking. Add "being a hero" to the list.
Temar was having an average summer day on July 11: he helped a neighbor move her couch, and then settled in to hang out with some friends. But when Temar and friend Chris Garcia heard a five-year old girl had been abducted from their neighborhood, they jumped into action. After locating and chasing down the abductor, they rescued five-year old Jocelyn Rojas and were able to return her safe and sound to her parents.
For his heroics, Boggs is our Foot Soldier of the week. I spoke with him this week about his extraordinary actions.
How did this all happen?
 [After finding out about the abduction], we went out there and made a little search party of all of our friends and went to go look for her, go find her.
We looked for about half an hour to about 45 minutes around the area where they said she could have been missing and we couldn't find her at all so we came back. The whole block was filled with fire fighters, police, newscasts, and so on so forth.
So people were– everybody in the group was scattered out everywhere. People were in their houses. One of my friends was at their houses; most of my friends were talking to other people, and all this other stuff. And I was just up a long thing on the bike and I had a feeling in my stomach that I was going to find the little girl.
And I went toward that way and Chris followed me, and from there, then– and we saw a suspicious car, we looked in the passenger seat: the little girl was in the car. We chased it for about ten to fifteen minutes and I guess he got scared and let her out in the corner.
I picked her up—well, no, I didn't pick her up, she ran to me and said she needed her mommy, and I rode her back home. Well, halfway, cause the way I had her was dangerous so then I carried her back halfway home.
So what about the car was suspicious, what made it catch your eye?
He was just turning around, like he was turning around down–I wouldn't say streets, cause they were like little cul-de-sacs, but then they would branch off to another street. So he was turning down those.
So, like, up the hill where I was chasing him down… there was like a car of cops, and he saw them and turned back around and went down the hill. And that just made it a little more suspicious. And then I looked in the passenger seat – the little girl was there.
And when you saw her – were you scared? Did you know it was her? What was going through your mind?
I wasn't scared, I was just [thinking], "Save the little girl, make sure she was okay."
So you got her, you took her back, you gave her to the police first? Or did you take her straight to the family?
I took her to… I think it was a firefighter.
And you got to meet her family later. What was that like?
It was just heartwarming, how much love they showed me.
How do you feel about having saved that girl?
It was just out of heart. It wasn't to get attention or anything. It was just to help somebody in the community, help make sure another little life was okay and make sure her future could be possible.
And your friend Chris, how does he feel about it?
He feels the same way. He did that out of heart, he didn't do it to receive anything.
Inspired by Temar and Chris' heroism, people across the country have decided that the boys do deserve something in return for saving five-year old Jocelyn. Several individuals have already set up online fundraisers to raise money for college scholarships for Temar and Chris. You can find out more at this report on Lancaster Online.
Enson Inoue's New Fight: Helping the Displaced of Northern Japan
By Tommy Hackett on July 17, 2013
Enson Inoue is known for a fighting spirit which carried him in epic battles against the likes of Frank Shamrock, Randy Couture, and Igor Vovchanchyn during the heyday of Japanese MMA.
Born and raised in Hawaii, Inoue first came to Japan in his early 20's, where he began an unlikely MMA career — initially, to challenge his own sense of fear. The Japanese accepted him as one of their own, dubbing him "Yamato Damashii," or the spirit of traditional Japan. His ferocity and never-say-die attitude was said to be bringing back the samurai spirit that the Japanese themselves were losing.
But today, Enson Inoue is planning a new challenge: a pilgrimage across his adopted home, to raise money and awareness for those still suffering and displaced by the 2011 tsunami and nuclear disaster.
Beginning in September, Inoue will trek close to 1500 miles in honor of the displaced, including through the ravaged areas of Iwate Prefecture — staying wherever he may find shelter and only carrying his own food and water.
He's asking fans to pledge support, accepting donations through his website which will be used for supplies to help the displaced.
"What we'll be doing is not only raising money for the people up there, but also I want to make it so it inspires them too," Inoue explains of the walk he will take with two longtime friends, Roman De La Cruz of Fokai Industries and K-1 veteran Pat Ayuyu.
"As far as food and water goes, we're going to run out of supplies, yeah?" he adds, his Hawaii accent still rock-solid after almost two decades in Japan. "But these people don't have work and don't have a way to purchase what they want. That's why I'm making that rule, that we only eat what we carry, to put us in the situation where we have to depend on people's help too."
"They're in a situation (in Northern Japan) where they need to rely on other people," he continues. "It's not possible to make it all the way across Japan only carrying food and water, without help. We're going to have to sleep outside every day. So it's kind of like their situation, unstable. They're in temporary housing and they don't know how long they're going to be there. They're not confident they'll always have a place to sleep. We might find a good place to sleep one night, and not find anywhere to sleep the next."
"You've got to keep the hope. If you look at the resources, there's really no way to make it. If you look at the people in temporary housing, it's the same: some of them end up having to wait until hope comes. I hope it inspires them to continue on."
In 2010 Inoue completed the Shikoku Pilgrimage, a walking tour of 88 Buddhist temples. After the 2011 disaster, he began setting aside time from his successful network of martial arts academies to help the disaffected. With the help of his friends and fans, Inoue has made more than 20 trips to bring supplies to the ravaged north from his home in Saitama.
He describes the lessons learned from his MMA career as serving him well in these experiences. He was a huge underdog when he handed Couture his first MMA loss, and refused to quit in a frightful beating at the hands of Igor Vovchanchyn – in a bout where he sustained a swollen brain and numerous other injuries.
"Discipline and perseverance," he says. "The duration of the fight is different; even thinking of the hard training before the fights; this (trek) will be a bit longer. It's a whole different thing, but it's the same thing. To have to get up again every day, no matter how much pain you have. Pushing yourself to get through the mental anguish."
But this time, the battle isn't about testing his fighting spirit.
"It's to inspire them to continue on," Inoue says. "Second, the fans, I can inspire them to help. They don't understand how dire the situation is. If people didn't do these volunteer missions to help, a lot of people would be dead. The people up north still need help."
"If you skip a couple of beers and pledge a penny per mile," Inoue explains, "at the end of the journey, that $13 will buy water for a family for a month, or rice for a couple weeks. You can help people in ways that are life changing."
Donations can be made through Enson Inoue's website, DestinyForever.com.
A brief clip as Todd Vance break down his therapeutic program for war veterans dealing with PTSD  for HBO Sports as Soledad O'Brien travels to San Diego and meets the men of the POW MMA Fight Club, who have found their own solution to PTSD, one of the military's biggest problems. Real Sports premieres Tues, June 25 at 10pm ET/PT on HB